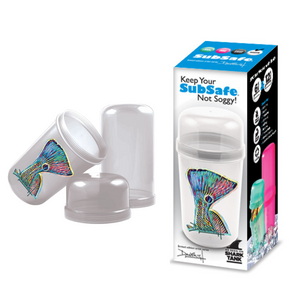 SubSafe
CUSTOM SubSafe with art by David Danforth - Reel Local
Sale price Price $22.99 Regular price
INCLUDES 3 PIECES TO THREAD TOGETHER FOR EITHER A 6" OR 12"
Tired of soggy sandwiches? SubSafe is the ultimate sandwich container that keeps your sub sandwich safe, never soggy. SubSafe is BPA Free and made from the same plastic that is used for baby bottles. This high quality plastic makes SubSafe waterproof, crushproof, and it floats.
With its ingenious multi-purpose design, SubSafe can also be used as a cup or bowl, or after finishing your fresh, delicious sandwich, it can keep your keys, wallet, and phone safe. Whether it's out on the water, at the park, or in the break room, SubSafe keeps your sub sandwich safe, never soggy.

This Product:
Includes 3 pieces that will thread together to protect a 6" or 12" sandwich.

Waterproof, crushproof, and floats.

12" fits a bottle of wine, protecting it in the cooler or your luggage.

6" works perfect for a cocktail shaker.

Perfect for boating, tailgating

, golf, beach, camping, hunting, and the break room.